Music Organizer and Categorizer for VLC, iTunes and Winamp
Create playlists from your own categorized songs for iTunes and Winamp
specify up to 600 attributes for each song
Simple yet Powerful
for iTunes and Winamp
What does it do?
Beyond Genre is a music organizer and categorizer built on the premise that each song has more than one classification. Therefore, Genre alone does not help organize or categorize music. Furthermore, "grouping" in iTunes is not an easy to use interface for music classification. "Grouping" has to be re-typed each time; hence creating a cumbersome interface and also prone to typing mistakes. In Beyond Genre, you specify the attributes once and then assign them to your music collection using check boxes.
The software gives you the ability to tag multiple (and custom) attributes to a song. For example, you can assign a song with attributes:
song1 >> English, jazz, dinner, romantic
song2 >> English, dinner, romantic, instrumental
As you tag your songs, you can do things like:
Play (romantic, dinner) music but not (instrumental)
The software works only with VLC, Winamp and iTunes (and not Windows Media Player).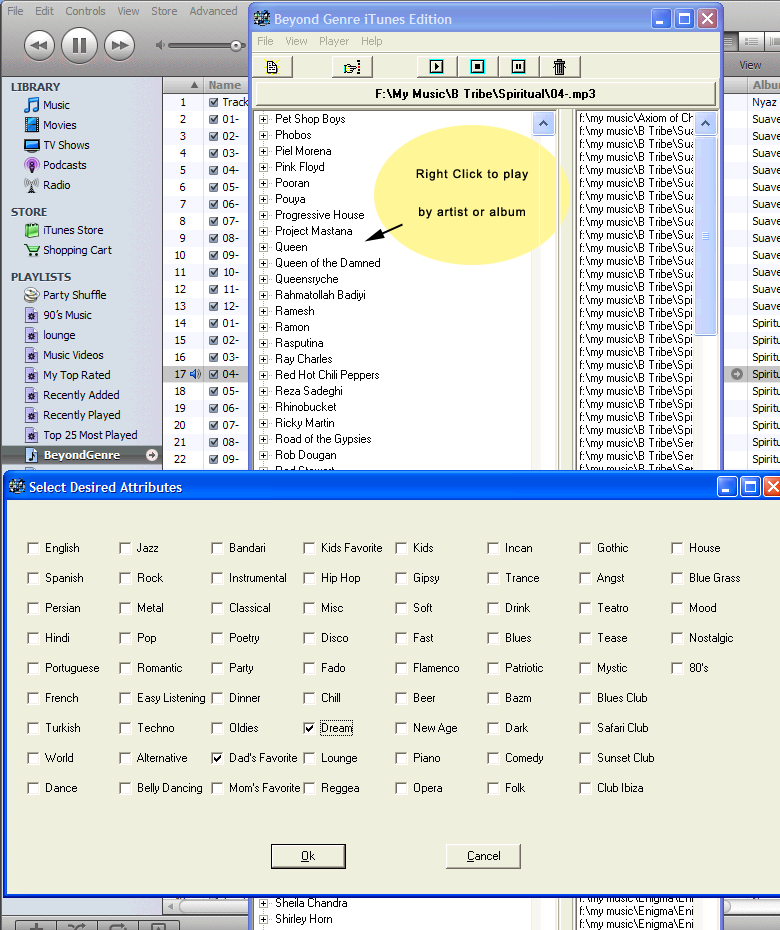 Features and Benefits
Import "Genre", "Grouping", and "My Ratings" from iTunes.
Create playlists in iTunes or Winamp using any combination of your own song attributes. Playlists in iTunes are named "Beyond Genre". From iTunes, click on the playlist name to change it.
Select music by choosing your "desired" and "undesired" attributes.
Easily assign attributes for different members of the family.
The data is saved in a text file so that you can easily manipulate it, share it, or syncronize it with another computer.
The data is common between iTunes and Winamp.
Copy music to other computers on your local network using the "Copy missing songs" option.
Works with any Windows version.
Known limitations
Currently does not support unicode characters.
Frequently Asked Questions
See answers to frequently asked questions in FAQ page.
Testimonials
" I installed and ran your program tonight and I must commend you on it's ease of use- it's very intuitive. That in addition to the great help screen shots on the website gurantee a quick learn. I agree with you that itunes is lacking in its ability to properly categorize music, and what could be better than having the user himself decide what category he thinks the music should go into? It's quite subjective and this takes care of the problem pretty easily. Great work. "
- Keyvan T.
Download Free (version 6.00)
Download . We welcome your feedback, so please use the contact us form to let us know what you think.